the open earphones that combine comfort and safety.
Thanks to their unique design, the noor, you discover a new sound experience by freeing you from the constraints of the isolation of a traditional earphone. They're the first earphones of their kind that, thanks to their GoSense Open Audio technology, produce quality sound without covering or entering your ears.
In the category of open earphones, the noor is also more efficient than bone conduction earphones. With noor you don't feel vibrations and the sound quality is richer than with bone conduction.
Comfortable and stable, you won't feel them. The noor has been designed to follow the natural contours of your ear and the curves of your face.
The noor accompanies you when you walk with Rango or Wizigo, so you can hear the feedback from your GoSense devices and still be alert to the sounds around you.
The noor can also be useful at the office, at school, connected to your Braille display or your computer, your ears and hands are free and you stay alert to the people around you.
You can make calls, listen to music with your smartphone, and still be open to your surroundings.
Minimize
While most other brands of headphones develop a sound experience in isolation, which can become dangerous, the noor — on the other hand — adopts an opposite bias, allowing a totally new sound experience. A more interactive experience, listening to others and the environment around you, while maintaining a rich, quality sound thanks to its « GoSense Open Audio » technology.
Listening becomes more natural, more delicate and more free.
The noor set your ears free!
An experience
more interactive
A listening
more natural
Sounds in
overlay

Security
Since your ears are free, you can hear the sounds around you. You can hear the car, bus, scooter or bike near you, as well as their warning sounds: horns or other bells. Even while listening to music or on the phone.
Overlay
Combine listening to sound alerts from your GoSense Rango or Wizigo GPS while on the move with being fully aware of the sounds coming from outside. You can also listen to sounds from your Braille display, computer or smartphone and still be alert to your surroundings. Thanks to their GoSense Open Audio technology and design, the noor delivers sound from two speakers into your ears without your surroundings hearing.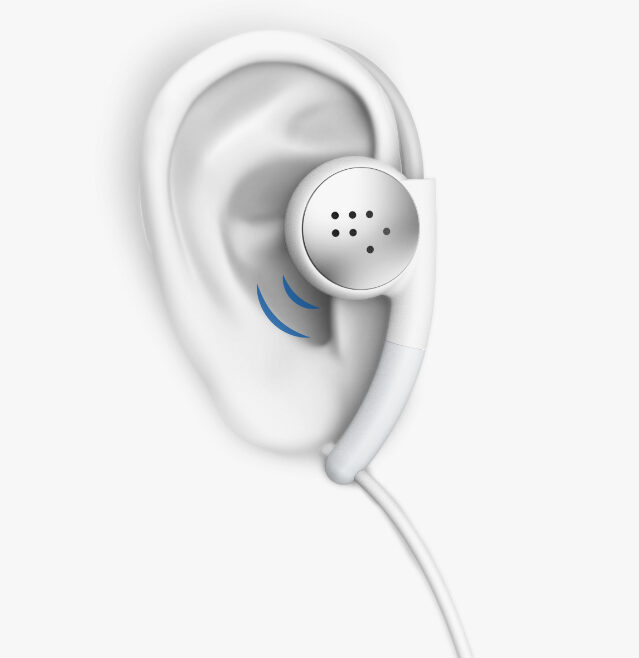 Maintenance
Thanks to their elegant and adjustable design, the noor fits all types of ears, small or large. The noor has been designed to follow the natural curves of your ears and face. The buckle and slip-on system allows the noor to be adjusted to your ears. The silicon membrane of the buckle offers a better comfort and a better grip, for a good support in all situations, even during sports.
Resistant
If you sweat or it rains, the noor are water and sweat resistant. A new generation of mesh is integrated in the area of your ears, allowing the sound to be diffused while retaining water and sweat. The high-quality plastic exterior will not deteriorate when exposed to water or sweat. Like you, the noor are all terrain and are designed for long term use and for outdoor sports.
Hands-free kit
Bluetooth and connected to your Smartphone, the noor allows you to keep your freedom of movement. No more tangled lines with your white cane. With the hands-free kit, you can keep your phone in your pocket or bag and keep your hands free.
GoSense Open Audio 3D onboard technology
The noor's are embedded with intelligence and are combined with a dedicated mobile application, « noor by GoSense ». With this mobile application, you can access new services through software updates. Your noor has inertial sensors and electronics. This makes it a unique headset. There is no equivalent to the noor on the market.
The noor has 2 gyroscopes, 2 accelerometers, 2 magnetometers, 3 microphones (1 microphone in each ear and 1 in the neckband of the hands-free kit), as well as a new-generation Bluetooth chip (QCC5144) that gives your noor greater potential. Once the software is activated, all these high-end electronics will offer you a new and interactive 3D sound experience.
Minimize



With the , Rango or Wizigo become more efficient
With the noor, you will be able to capture in 3 dimensions the sounds which surround you, as well as to diffuse sounds in 3 dimensions in your environment. With natural sound, depending on your movements and the movements of your head and shoulders. The noor are not only headphones, they are unique in the world since they are the only Bluetooth and open headphones on the market that are upgradeable by software updates, which thanks to the embedded technology « GoSense Open Audio 3D », allow to make and share 3D audio content with a smartphone.
You can make 3D audio recordings
Dans le futur, équipés des noor et de votre smartphone.
You will gain in simplicity of use!
With noor, you don't need to calibrate your phone to put it in your pocket and use Wizigo. No need to check if your beacon is well positioned. Its hands-free kit, now allows you to use the audio control more easily.
You will gain in performance!
Les noor envoient de nouvelles données qui alimentent l'intelligence embarquée de Rango. Ce qui améliora le positionnement en 3 dimensions de l'alerte sonore de Rango. Vous localiserez encore plus facilement, le son et donc les obstacles.
La qualité de la détection de Rango sera plus efficace. Grâce au noor, Rango connaitra précisément votre orientation par rapport aux obstacles. Tous les changements de direction que vous effectuez avec votre canne et Rango, seront désormais mieux compris par l'intelligence embarquée. Avec les noor, Rango devient plus intelligent et plus réactif.
You will gain in performance!
Les noor améliorent l'intelligence de Wizigo en alimentant ses algorithmes.
Grâce aux noor, Wizigo connait précisément votre orientation et votre vitesse de déplacement. En pratique, l'interface sonore de Wizigo devient plus intuitive.
For example, you will find it easier to locate sounds in space. The accuracy of Wizigo's guidance will go from 5 to 8 meters of accuracy, to 1 to 3 meters of accuracy.


The future of noor
With the noor, you have access to a device that can be upgraded with software updates via the GoSense noor mobile application.
Please note that the following represents the future of the noor, which is not yet developed but is planned for the medium term.
With GoSense noor, you can benefit from new services on your smartphone to enrich your multimedia content (podcasts, videos, audio recordings, etc.) with 3D sound and augmented reality.
The noor will offer you a unique sound experience combining an immersive and interactive 3D sound layer.
Practice your sport with your extra-auricular earphones
Comfortable and with good support, the noor are ideal for outdoor sports. Free your ears and enjoy the moment in complete safety.
No more falling out of headphones. No more earaches from traditional headphones. Positioned in front of your ears, the noor does not attack your eardrums.
Elegant and comfortable, the noor fits your face perfectly, while preserving your freedom of movement. Resistant to water and perspiration, the noor are all terrain even in rainy weather.
The noor were designed for sports and adventure.
With noor, increase your sound horizon!
For more information on noor and sport, visit the GoSense noor website
Soon available…